All about Autumnal fruits
"When eating a fruit, think of the person who planted the tree."- Vietnamese Proverb
Here at Luxury Fruit Baskets, every gift hamper we make tells a unique story; from locally grown fresh fruit, hand pressed apple juice to the message for the lucky recipient. We love sharing the stories behind our beautiful seasonal produce and the amazing people who help along the way.
This September, Luxury Fruit Baskets founder Kim Starling shares behind the scenes of Ashill Fruit Farm – a small family run business based in the heart of Norfolk, not too far from our HQ! Pop over to luxury Fruit Basket's Facebook page and checkout the mini video tour of Ashil Fruit Farm where apples, pears and plums are grown - they have been supplying us with fabulous quality fruit for many years.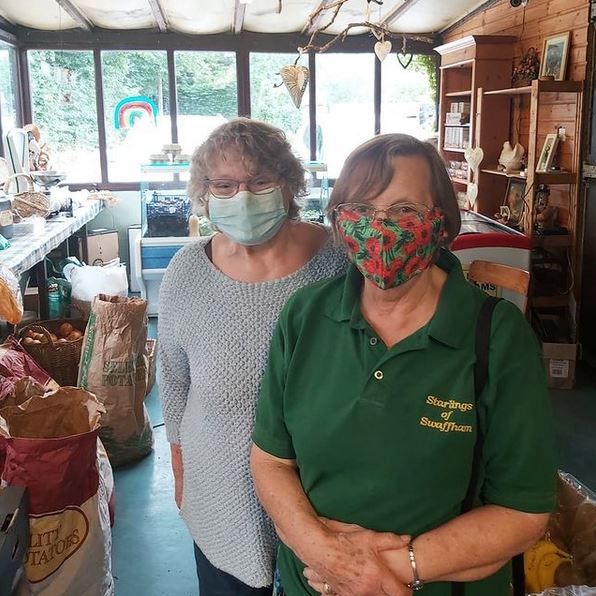 Pam from Ashill Fruit Farm and Dorothy from Luxury Fruit Baskets - friends for many years (picture above)
On a recent visit to our local orchard, Ashill Fruit Farm, I discovered why the plum season is so late this year. Normally plums are ripe and ready in August, but in 2021 they have been delayed by a few weeks. Like the rest of Europe, England experienced the coldest and frostiest April for over 60 years. The late frosts in April damaged the blossom, and the wild wind and heavy rain meant poor pollination.
However on my last visit, it was wonderful to see the lovely old fruit trees finally starting to ripen, ready for picking and ultimately packing into our Autumn fruit hampers which are so popular this time of year! So watch out for juicy, Norfolk grown plums in your fruit boxes SOON!
Autumn Fruits
Autumn is one of the richest, most colourful seasons and means it's time to start making delicious recipes using the fresh fruit. Home baked apple pies and moreish plum crumbles, poached pears with chocolate, baked figs drizzled in Norfolk honey to mention just a few of my favourite frit recipes!
Our luxury fruit baskets make wonderful Autumnal gifts and are a popular choice to send for many secular and religious festivals during these months.
Top 5 favourite Autumn fruits
It was hard to pick as we have SO many amazing fruit varities to choose from in the Autumn months, which is great as it means we can fill our luxury hampers full to the brim with seasonal fresh fruit for you to try!
Autumn raspberries – Autumn Bliss, lives up to its name!
Victoria plums – named after Queen Victoria, they are gorgeous and sweet. if cooking you need to add a pinch of sugar.
Conference pears – so delicious in a salad with walnuts, baby leaf spinach and a blue cheese dressing.
Discovery apples – crisp, sharp and the first taste of English apples, which feature in our fruit hampers in Autumn.
Greengages – a mini dessert plum, green in colour and so succulent.
Order your autumn fruit basket today!
You can easily order our brand new Friendly Fruit Box online for nationwide delivery, or give our friendly fruit basket team a call on 01760 721283 for more or email us on sales@luxuryfruitbaskets.co.uk