Testimonials from our lovely clients who have experienced our luxury fruit baskets
As a family run business, the Luxury Fruit Baskets team are dedicated to creating special gifts using only the finest quality produce and providing outstanding customer service every day. From heartfelt hampers to say 'Get Well Soon' to special 'Happy Birthday' hampers, we know every hamper we design and deliver has a meaning behind it for both the sender and recipient. It means so much to us when customers from across the country take the time to share their experience with Luxury Fruit Baskets, read on for some of the lovely feedback we have received over the years that has bought a smile to our faces.
---
We have been using our local fruit shop 'Starlings' of Swaffham. We have a delivery for our staff every week. It's great to support local of course, however the fruit is second to none and super fresh! Thank you very much @starlingsfruitandflorists we are so pleased we found you!
Emma Wilson
26/07/2023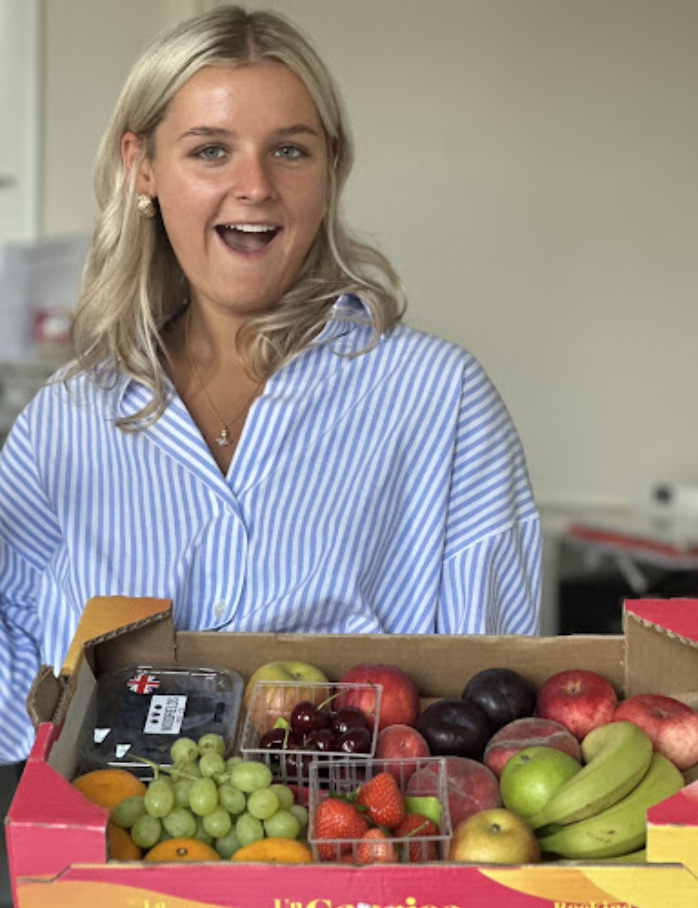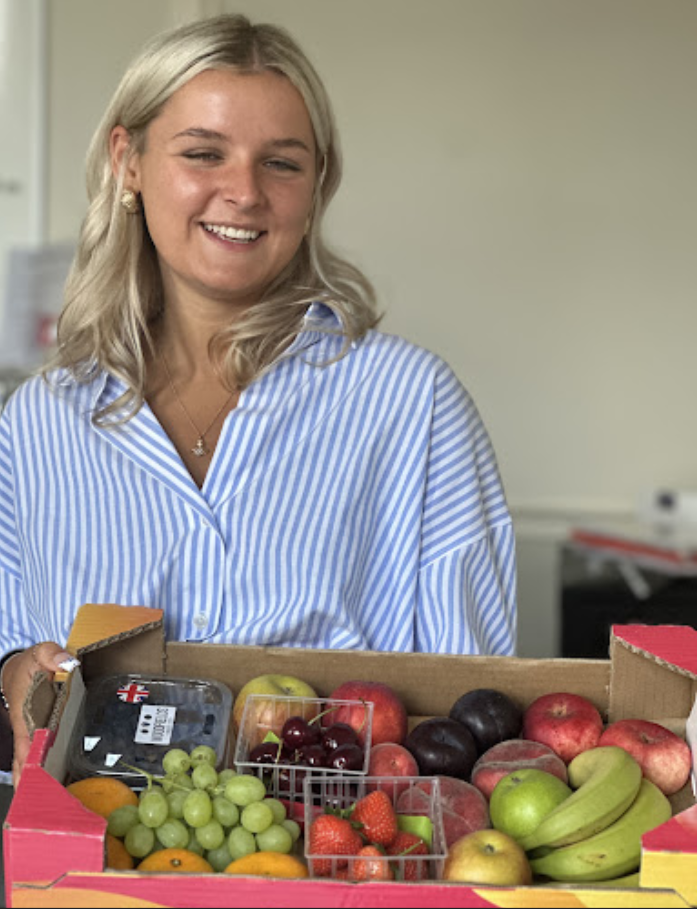 Excellent customer service and Kim was a delight to deal with. We ordered 50 baskets for family friends over the EID holidays and got wonderful feed back on how fresh the fruit was and how nicely it was displayed. Will definitely use them in the future and highly recommend.
Alyson
18/05/2022
Hi Kim

Thank you so much! Your customer service and tracking is next to none! Brilliant and the recipient said to quote "the basket is absolutely lush".
Lorna
10/02/2022
Many thanks for this premium fruit & premium service.
Rodah
16/08/2021
Basket was received on time, I am told in excellent condition and really fresh and well presented. Thank you it made a very special friend's birthday.
V.M.Mossford
08/02/2021
Dear Starlings of Swaffham.

Thank you so very much for the fabulous fruit basket which we received just before Christmas, a wonderful gift from some friends. The fruit was so beautifully presented and perfectly fresh. It was all gone within 7 days. We enjoyed several mixed fruit salads, fruit and Yogurt, fruit with various cheeses and fruit simply on its own. We have managed to make the delicious chocolate last a little bit longer

Kindest Regards and virtual hugs.
Gill and Graeme
07/01/2021
Hi Kim,
I've been getting some lovely feedback from people about the baskets. One friend rang to say that it made her realise how little fruit she'd eaten during the pandemic. She's over 80, living in a fairly isolated rural area, so other people have been shopping for her, and she's kept it to essentials. She's been waxing lyrical about nectarines, grapes and other goodies, and having a fruitarian (or is that fructarian, she mused) and sent me photo of the basket before she tucked in. Thanks so much. Have a good Christmas.
All the best,
Marlowe
17/12/2020
Thank you received with many thanks and beautiful smells. This was a wonderful and beautiful surprise. I haven't seen fruit look so fresh and beautiful!!
Happy Christmas to you and family and thank you again we really appreciate your kindness.
Inez
16/12/2020
I would say its is amongst the best fruit and vegetables I have ever eaten. thank you
Kathryn
14/09/2020
I just wanted to say thank you for providing such a wonderful service. We ordered a fruit basket for my sister's 60 birthday to arrive while she was on holiday in Norfolk. She was absolutely delighted with it!
Sarah
05/08/2020
Thank you so much!
Yet again, my says it is beautifully presented and very fresh. Thank you so much. Being so far away is hard, but knowing i can do a little by sending them fresh, quality fruit helps. Thank you again for your attention to detail.
Emma
14/07/2020
Many thanks Kim for all your help. My sister sent me a photograph of basket and they were thrilled with it. I will certainly come back to you in the future.
Kathy
10/07/2020
I have spoken with the recipient (my aunt) and she is absolutely delighted with the fruit basket. Everything was top quality and arrived in perfect condition. Very impressed all round! Thank You!
Teresa
30/06/2020
Thank you...Yes, I have already received photos haha. It is very beautiful, and was the absolute perfect gift. Thank you so very much!
James
18/06/2020
I have just received one of your baskets as a gift from my sister who shops with you. I am absolutely delighted with it. It arrived in perfect condition and contains a wonderfu selection of perfect fruit. Very exciting! Thank you
Vicki
03/06/2020
Dear Kim
They were absolutely delighted with their fruit basket and said it gave them a much-needed lift! Many thanks
Gerry
07/04/2020
Dear Kim,
Thank you so much for the wonderful fruit basket delivered to Poppy yesterday. I saw a photograph and it looked absolutely amazing - filled with delicious friuts.
Poppy and family were delighted! Thank for all the care and attention you put in personally to make sure my order was delivered safely.
I really appreciated the phone calls both pre and post order. Thank you especially for calling me yesterday knowing that I was worried about the basket getting there. Apologies that I couldn't speak for long as I was talking (distanced!) with a neighbour. Thank you that you and your team are continuing to work during these worrying times. I hope you all keep well. I certainly won't forget you. Yours sincerely,
Petrie
02/04/2020
Thank you so much for your delivery. My daughter was overwhelmed with how lovely the fruit was and how it was presented. Your service was fast, easy and efficient, which was excellent for me given that I am ordering from Australia. Thanks again. Stay safe & well.
Jacqui
02/04/2020
Just a short message to say how impressed we have been with your service. We sent a fruit basket to a colleague who is unwell and they have just messaged to say what a wonderful gift. Thank you - always good to use an independent, local service. We will certainly recommend you to others.
Vanessa
23/01/2020
Thank you Kim! Your service and wonderful fruit baskets are second to none!
Merry Christmas!
Kind regards
Diana
21/12/2019
Dear Kim - She was over the moon! She says your fruit is the best she's ever had and your honey is to die for!
She is so thankful to your company for such a wonderful service! Thank you ever so much Kim! As ever, nothing too much trouble and service with a smile!! Many Many Thanks! Regards,
Keith
03/09/2019
Thank you very much i have ordered 3 baskets in the last couple of months as gifts for friends and family and they have all said how amazing they are.
Regards
Sarah
30/08/2019
I was searching for something to send to a friend who had suffered a terrible and unexpected tragedy in his family. Rather than the standard flowers, I wanted to send something different and had thought of a hamper. After a lot of searching on the internet through many generic sites which looked big and faceless, I came across luxuryfruitbaskets.co.uk. After reading about them on the site, I decided that this would definitely be the one. The baskets all looked so lovely, and there was a beautiful one with a local honey that seemed perfect for what I wanted.
After ordering (which was very easy), I thought that I would phone, just to make them aware of what it was for, so that there wouldn't be any "sparkle" or anything that wouldn't suit the occasion on the basket. I got speaking with Kim. Well, what can I say, but what wonderful service. I explained the situation to her and she was genuinely so caring and kind. She explained the way that the baskets were presented, and assured me that she would personally make sure that mine was suitable for this situation. She also upgraded the card that went with my order, and the delivery. So thoughtful. This set my mind at ease enormously. I was able to do this all over the internet and phone from Belfast.
I know that the hamper was the perfect token on this occasion, and that my friend was touched. I would wholeheartedly recommend Kim and the business, and I know that in future, I'll be sending one of her baskets rather than flowers. As a self employed person, I am massive on customer service, and this was well above and beyond. Thank you so much Kim!
Lara
19/07/2019
Outstanding customer service - not only did they deliver a beautiful fruit and chocolate basket to staff in the community hospital where my Dad has been for a while, but they also phoned me afterwards to say how much staff appreciated it. I was so grateful for that call. Thank you! You are brilliant :)
Carol
21/04/2019
Dear Kim, Just to let you know Judith has received her fruit & is thrilled with it. She's just had a hip replacement so it was to cheer her up. She sent me a photo of herself with the fruit basket. Thank you so much. I'll definitely use your company again. Kind regards
Sheena
09/04/2019
A big thank you to Kim and your team for my wonderful fruit box. A kind thoughtful gesture from my lovely mum, and it was a perfect treat to brighten up my day. The oranges were particularly scrumptious x
Hayley
07/03/2019
The people who took them to the family areas have both said they are the "loveliest hampers" they've ever seen - they said the fruit is beautiful. I will be looking at your company for next year's fruit baskets! Thank you ever so much!
Kasey
21/01/2019
My son has just sent a picture of the fruit basket and we are very pleased - especially as we are traveling across Austria at the moment. Your website proved to be very good.
Terri
26/09/2018
Hello!! Just a quick message to say thank you for being so helpful in trying to get the basket delivered! She was very happy with it and said it was beautifully presented. I will make sure to recommend your services and will definitely be ordering from you again.
Tas
19/04/2018
Hi, the fruit basket sent to my sister in Folkestone yesterday was absolutely fabulous and really made her day. My brother-in-law loved it so much he has kept your details so in the future he can order something special for his parents. Thank you so so much
Julie
23/03/18
Hi Kim, I took the lovely fruit basket to my ex-husband's father's 90th birthday party - it went down a storm - so many compliments!
Susie Norman
23/03/18
They love it! Thank you for an excellent product and service!
23/03/18
My daughter Joanna was overjoyed with her basket of fruit and I was impressed with the service and consideration shown by yourselves. It certainly brightened her day after her first chemo procedure.
Graham
16/06/2017
Dear Kim, I was at my vets yesterday and he had taken a photo of the fruit basket to show me. It was magnificent and he said how much they loved the fruit rather than chocolates!
Many thanks again.
Madeline
Hi Kim, Thank you so much! I just received a picture of the basket and thank you from my friends, the recipients. It looks lovely!! Thank you for your excellent service! I will be recommending your company to all my friends and acquaintances who wish to send gourmet fresh fruit gifts to recipients in England. I was so lucky to find your company when I did my internet search!
Annette Pipes

Hello Kim, My sister ordered a fruit basket from LFB last year and she mentioned how delighted the recipient was and she herself was full of praise for the quality of service provided.

Based on her recommendation, I ordered a basket for a friend, which was delivered today. I knew the basket had been delivered before I received the courtesy confirmation call from LFB, because the recipient had already called me to say what a lovely gift she had received! She was quite overwhelmed! Thank you for providing a great service and wonderful selection - it's a pleasure sending a gift that is so well received. I'll be ordering again for certain!

Many thanks indeed - and yes, the website is very easy to use! All in all, a great service!
Jennifer
Whow, having just moved to Swaffham we discovered "Starlings". We have found staff fantastic, friendly and helpful. Quality of fruit and vegetables (local suppliers) superb and the taste unbelievable. However, three weeks running have been amazed at the extreme high standard of bouquets, floral tributes, window displays. They have been created with care, imagination, and really outstanding. Don't have any doubts as to quality, speak to them regarding your requirements, whether fruit and vegetables, or something extra special involving flowers, we hope you will be impressed as we are.
Rosemary Lyon
My Mother lives near Swaffham and I live in America. I used to use one of the international flower delivery services to send flowers for Mother's day and for her birthday. They were usually OK, but one time the flowers were not particularly good and I had paid quite a lot of money, so I thought, "Why don't I just call a florist in Swaffham?" (After all, international phone rates have been quite cheap for several years now.) I have never regretted that decision, and have been using Starling's to deliver flowers for several years now. Kim knows me and she is always very helpful. Best of all, when I speak to my Mother, she always tells me how lovely and fresh the flowers are.
The last two years Kim has included a fruit basket for Mother's day, and my mother told me recently it was the best fruit she has ever had -- every piece was delicious and perfectly ripe. I am grateful that there is such a good florist like Starling's in the Swaffham area and I have no intention of shopping anywhere else. Also, I would rather support a local business than some big anonymous internet company. You never know what you'll get with them, and I prefer to deal with a real live person who knows me.
Andrew Benton
Philadelphia, USA
Starlings have solved my 'problem present' list for ever! I have ordered a range of different baskets, which all arrived carefully chosen and beautifully presented. From a large basket of mixed small fruits to use as finger food at a buffet to Christmas baskets for friends and family they have all been fabulous. It is so unusual to be able to discuss the choice of fruit and vegetables for each gift, and knowing that they use local produce when possible makes it special. A wonderful bespoke service!I also pop in every week for fresh local produce, and have never been disappointed.
Dr Carly Anna Hughes
FRCGP
GP and Bariatric Physician Fakenham
My friend and I had the pleasure of visiting Starlings in Swaffham yesterday. What a beautiful array of fresh fruit, vegetables, some of which I'd never seen before. The lady inside was very friendly and knowledgeable, and explained not only what some of them were but even kindly informed me how to cook them. I bought some squash, a circular courgette and some other bits n bobs and made a beautiful roast veg tray bake. Delicious. She offered my friend what she called a wonky box which comprised of a large selection of fruits and vegetables which may not have looked the best but tasted amazing. The lady also took us out back to show her beautiful display of fresh flowers. Starlings do fresh fruit hampers and also bouquets of flowers delivered to your doorstep. I would recommend a visit to this beautiful shop abd it's equally beautiful staff. Top class service.
Breda
22/10/2021
Dear Kim,
I have been to see Leanne and she is bowled over by the fruit basket. She absolutely loves it. The presentation, the choice and packaging she found wonderful. It is the first time I have seen your fruit basket in the flesh. I am so impressed.
Alistair
May 2021
Hi Kim,
Thank you so much for your hard work in preparing and then arranging delivery of all of the fruit baskets (5 in total) that I ordered this Christmas. They have all been really well received and I wouldn't hesitate to use your service again in the future. I hope that you and your staff have a wonderful Christmas and well deserved rest (especially your mum!).
Kind regards,
Dr A.Stevens
24/12/2020
I just wanted to thanks you so much for the wonderful fruit basket I have just received, the quality of the fruit is fantastic. My daughter & children who sent it was worried about how the basket would survive the posting, also what the quality of the fruit would be, neither of us live near to you, so it was totally on trust from the on-line pictures. All I can say is--it couldnt be better.
The personal touch, of the handwritten card from the person who packed it (in my case Dorothy) made it extra special. The packing was done so well that is dont think that even a grape could move in the transport. Thank you all so much, have rec ommended you to lots of friends over here in Shropshire, hope you get lots of orders from it, well deserved
Lyn
22/12/2020
We opened the basket this evening and we are delighted with the quality and freshness, the size of the products included was also superb as was the packaging and delivery. We also loved the personal touch you all added it was lovely and much appreciated especially during the stressful time we have had lately. Mum is home safe and sound now.
I will definitely be using you again in the future and will be recommending you to family and friends :) when I get the time I will leave you a 5* facebook review.
Nikki
18/12/2020
As always, fantastic service. Thank you. So reassuring to know I can rely on you guys from Australia. My parent's loved the last hamper as it contained fruits they had never tried before. Thanks again....until next time.
Deb
23/10/2020
I visit Starlings weekly to pick up my colourful vegetable box and I once won a luxury fruit basket! I'm always welcomed with a cheery greeting and my questions about origin are always answered knowledgably. I've been most impressed with the Covid safety procedures, which start with a standing sign outside - I always feel safe. Thank you Kim & your amazing team.
Sarah
25/10/2020
Amazing, beautiful produce with outstanding customer service! I wanted to send a gift to the teachers at my son's primary school and I needed it to be nut free which I wasn't able to tell from the product description.
I sent a query through their website and I was contacted by Kim who went above and beyond what I'd have expected any company to do and kept me informed every step of the way, even calling me up to discuss it over the phone, contacting the company who made the chocolate for advice directly from then and then even upgraded my delivery at no extra cost to ensure the gift arrived in time and even called to confirm the order has been received.
I will not go anywhere else to order fruit baskets and gifts now! So pleased I chose them for this extra special gift. Thank you!
Pippa
May 2020
Hi Kim,

Thank you so much for the email to update me.

I appreciate all the effort you went to, to make sure that our orders were delivered.

One of our staff received her fruit hamper this morning and she was beyond excited to receive the beautiful hamper.

I wish you everything of the best during this difficult period and I hope that your business prospers and that you have continued support from all your customers.

If I have the opportunity to order hampers in the future I will definitely use or recommend your company.

Take care and stay safe!
Many thanks,
Michelle
15/04/2020
Hi Kim,
Thank you so much. My mum is delighted with it. Excellent service, especially in these difficult times. Kind regards,
Susan
10/04/2020
Very pleased with it! Lovely selection and great service too. Thanks a lot.
Simon B
06/04/2020
Good afternoon Kim, I spoke to my sister over the weekend and she was so very happy with the Christmas basket- the chocolate/fruit combination, choice of fruits and the overall obvious care you took with the presentation and delivery; the hand written card….. So thank you. It is so helpful to have a quality item go to those you love, when we live so far apart! .
Mary
13/01/2020
Dear Starlings, Thank you so much for your excellent service. My brother and sister in-law were very happy with their gift. Especially the honey! We used to live in King's Lynn and are very haapy to support a Norfolk business from across the pond. Merry Christmas to you all
Brion and Jill
20/12/2019
A very big Thank you for the fabulous Fruit Basket I ordered for Staff at Badgers Wood . They were really thrilled especially with the unusual fruits. I will definitely recommend you to my friends and family and shall be using your wonderful service again. I am sorry I am not on social media
Linda C
19/12/2019
Hello Kim
Just wanted to say a massive thank you for the fruit basket I ordered on July 15th. Sorry for the delay in sending my thanks.Thought you might like to see the recipient's reply when she took delivery of the basket.

I have just received a super basket of assorted fruits melon plums mandarins grapes kiwis a super selection I will certainly enjoy them it is so kind of you both feeling much better. Organizing a super fruit salad for lunch will really enjoy the change from a sandwich!

I'm so pleased she has enjoyed your fruit basket. I'll certainly use the company again
Kind regards

S. Crawshaw
06/08/2019
Just to let you know that the basket was well received and everyone thought that the fruit was lovely. Thank you
Susan
07/06/2019
Thank you.
My Neighbour says the fruit is beautifully presented and is very pleased with the good selection and fresh condition.
I shall certainly be using you again and highly recommend your Quality and Service.
Importantly, I was very pleased to know that total cost included delivery --even across country .
Thank you .
Jean & Rachael
05/06/2019
Thank you so much for the beautiful fruit baskets you made as end of school year thank you teacher gifts. The service was friendly, prompt and efficient. It was so lovely to have a personal touch from an online service option. Delivery to the West Midlands was made so simple. I would highly recommend your company
Colette
03/07/2019
Thank you very much. My friend was thrilled with the basket of fruit.
Paddy
21/05/2019
Just a word to say a very big Thank You to Starlings. I ordered a Fruit basket delivery to a friend in Sporle for his 80th Birthday on 22nd November. The delivery was on the morning of his Birthday and he was absolutely delighted with it. He and his wife were amazed at the quality of everything in the basket, and thoroughly enjoyed eating it. I made the order with Kim, a delightful and friendly lady. Once again, many thanks.
Mary
13/12/2018
Dear Kim, Thank you once again for a great service - our friend was really delighted with her fruit basket. It was a lovely surprise. We would definitely recommend Starlings.
Bob Watts
23/03/18
Thank you, my work colleagues said it was beautiful :)
Donna
13/07/17
Good Morning, Excellent news. I have some happy recipients who have already sent me a photo of the lovely basket! Thanks very much for a good service and experience.
Claire Cecchi
16/03/2017
Dear Kim,
Thank you so much for the brilliant service you provided regarding the delivery of the fruit basket we recently ordered. The basket was delivered yesterday, exactly as we requested, and our friend phoned to tell us that the fruit was beautifully presented and looked delicious. The fruit basket was a lovely surprise and most appreciated. We found your website very easy to use, and particularly liked your friendly personal touch, and excellent communication right up until delivery.
The service you provide is second to none, and we would definitely recommend Starlings of Swaffham to anyone. Many thanks!
Eleanor and Robert Watts
12/07/16
Starlings have contributed so very much to my enjoyment at living in Swaffham! I was overjoyed when I discovered this wonderful shop. It is run with the true old fashioned principles of friendly helpful service and a real pride in the service and goods that they provide. So unique in this world of supermarkets! It is a joy to go in there and it is always buzzing with life! This 60 year old business has superb florists and the flowers are unbelievably fresh. They are sourced from Lincolnshire and direct from the growers in Holland. They take pride in offering local produce such as Asparagus, Strawberries and raspberries not to mention fabulous local grown tomatoes, skalds and greens. They also have the pick of luxury foods from abroad such as wonderful dates and apricots as well as superb olive oil and honey to mention a few. They strength is in having the best!
Swaffham is very lucky to have wonderful Starlings florists and greengrocers in its midst!
JSBach
Yell.com review - 16/06/2015
The luxury fruit basket was made to a specific order-how many shops can deliver this service to an individual's specification? Certainly not the" Superstores"!!
The customer service was second to none and I highly recommend Starlings.
Geraldine Kerrison
November 2014
We are a company in Bedford and I was looking for something for an employee who was off from work following surgery. She is allergic to pollen so flowers were out of the question and chocolates would be too difficult to swallow. On searching the Internet I found Luxury Fruit Baskets. On looking around the website I was very impressed by the choices of baskets of fruit, in fact I couldn't make my mind up and some fruits had to be avoided. I rang and spoke to Kim Starling and she was so so helpful. I explained our dilemma and she had some great ideas for which fruits would be tempt our colleague and would be easy to eat and digest. Kim even put in some instructions on a card saying 'how to eat me'.
So we had a bespoke luxury basket made for us and presented in a double walled box with cellophane and a bow and arrived in perfect condition. It looked much nicer than a bog standard bouquet and was within the company budget. On receipt I know it was eaten and enjoyed with lots of 'oohs, aahs and yummy' Our thanks go to Kim and her team for going that extra mile to ensure we were able to send a beautiful but edible (healthy) gift to our colleague. We are already recommending Luxury Fruit Baskets to our contacts and families. Good Luck to Kim and the team for the future.
Karen
October 2014
My sister was thrilled with her lovely fruit basket, excellent quality , beautifully presented.
Margaret Bacon
Norwich - April 2014
I was looking for something special and by a great stroke of luck found 'Starlings of Swaffham', as we wanted to send a basket of good quality fruit to our Mum whilst she was in hospital recovering from a major operation. Placed order around 12 noon Thursday 05/06/2014 from Lincolnshire and basket arrived in Manchester via FedEx Friday 06/06/2014 at 09.30!
Inbetween times Kim contacted me personally to suggest soft fruits for easy digestion and to tempt appetite. Believe me, I was impressed, and Mum was too when she saw it. Everything was spot on: beautifully wrapped, lots of choice, and perfectly ripe. In a word, scrumptious! She can't stop telling us she's hasn't enjoyed such delicious fruit in a long time. Thrilled to bits.
Kim, I'm so grateful to you and your team for making this such a great experience, can't thank you enough. And to potential clients, trust me, forget the anonymous 'big boys' out there like I did and order through 'Starlings', you won't be disappointed."
Jan & Family
Lincolnshire - June 2014
What does One say about a family business? They are all very dedicated people,always bending over backwards to help there customers. whatever One buys its excellent produce.
Thank you all for all you do.
Mr & Mrs R Popley
Swaffham - March 2014
Since we moved here 15 years ago we have used Starlings for our flowers for every occasion . We have been more than pleased, we have been delighted. It gives me great pleasure to be able to give this establishment a review of excellence.
The staff are friendly, knowledgeable and talented. It's always a big thank you from me.
Vivienne Phillips
January 2014
My friend in Wisbech was thrilled with her fruit basket, many thanks to Luxury Fruit Baskets.
Mrs Ramm
January 2014