The story behind Luxury Fruit Baskets
Luxury Fruit Baskets is the child company of Starlings of Swaffham, a traditional greengrocer and florist shop. We are an independent, family business which has been trading in the market town of Swaffham, Norfolk since 1960.
A FAMILY RUN BUSINESS FOR OVER 60 YEARS
Our talented team have been making fruit baskets since Starlings of Swaffham began, using the finest locally grown produce to delight our customers with luxurious fruit baskets. Word soon spread and customers from further afield began asking us to deliver our fruit baskets to their door, or to a friend in hospital, or a favourite client. So over the years due to customer demands, Luxury Fruit Baskets evolved into the nationwide business it is today - proudly known for our excellent customer service and outstanding reputation for quality.
LOCALLY SOURCED PRODUCTS & OUTSTANDING CUSTOMER SERVICE
Much of the success of Starlings of Swaffham and Luxury Fruit Baskets is due to the fantastic suppliers we deal with. With over 60 years in the business we source the finest flowers, fruit and produce from local growers and trusted suppliers. Our contacts across Norfolk and the UK supply us daily with beautifully fresh produce, ensuring we work with only the very best quality produce.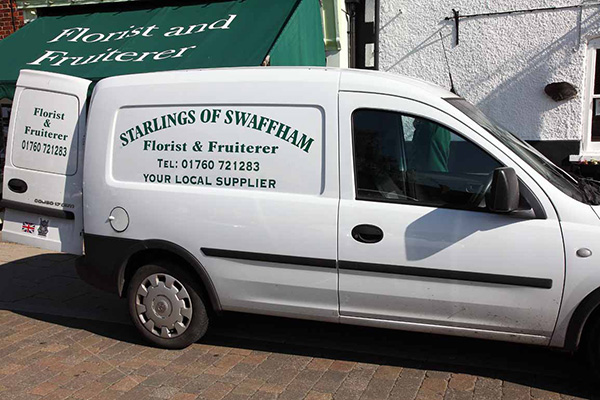 MEET THE LUXURY FRUIT BASKET & STARLINGS OF SWAFFHAM TEAM
As a family run business with close ties to the Norfolk community, our key values combined with a true passion for what we do and local links are at the core of everything we create.
Kim Starling
Our Director Kim grew up in the Starling business, benefiting from learning the trade from her parents and is the driving force behind the company. Full of ideas and passion to deliver the finest service and products to her customers, Kim uses her expert eye for detail and buying skills to source the best quality produce all year round.
Jola
Jola grew up in Poland, where she worked for several years in a flower shop. After making the move over to sleepy village life in Swaffham, we were delighted when Jola joined our team 17 years' ago. She brings with her a wealth of industry knowledge and innovative continental designs. Jola also helped create our unique fruit basket decoration .
Jane Thompson
Jane is our local delivery girl! She can be found navigating our delivery van along the pretty country lanes of Norfolk, or pulling her wellies to trudge up a muddy path to ensure a delivery safely arrives at its intended destination. Jane is also chief packer of our luxury fruit baskets .
Dorothy Starling
With over 60 years in the industry, Dorothy is a fantastic florist and well known character in Swaffham. Dorothy is not only invaluable as a florist to the business but makes most of our beautiful fruit baskets .
Paul
Paul, another addition to our expanding team, delivers our local fruit baskets and flowers. One of the corporate customers he looks after is the Sandringham hospital, who regularly receives our fruit baskets. He also makes a mean cup of coffee!
Dee
Dee joined our team in March 2022 and has been a florist for over 30 years . The picture shows Dee with some flowers she made for our late Queen Elizabeth ll on her last official birthday . Since joining us she has done two demonstrations , the last one was for Alzheimer's Society and we raised over £2,000 ! Dee's experience has meant we can expand and develop our events and wedding side of the business . so watch this space !