What makes our fruit box so friendly
The question we hear you ask - just what does make your fruit box so friendly? Luxury Fruit Baskets founder and owner Kim Starling shares the little details that the team have put in to creating our brand new Friendly Fruit Box range which we proudly launched on the 9th June 2021.
The Friendly Fruit Box will be available in 6 different variations which will feature yummy seasonal fruit, local honey, apple juice and chutney, and tempting chocolate, with options available for the vegan in your life.
Planet Postive Steps
The Friendly Fruit Box is a step towards Luxury Fruit Baskets becoming a climate positive business. We really care about the impact we have on the planet, and are pleased to be making steps towards reducing this.
To make this happen, we have partnered up with the UK based social enterprise Ecologi! This means that by donating money from every Friendly Fruit Box we sell, we will be planting trees worldwide and supporting climate change solutions. These range from rainforest protection to renewable energy production, which are all funded globally by Ecologi. We've nicknamed this process 'Buy one, Get one tree!'
So far, we have planted 300 trees and we can't wait to send more of our luxury fruit gifts across the UK to help make our forest grow even bigger – it shows how great an impact even employees of small businesses, like us here at Luxury Fruit Baskets, can have.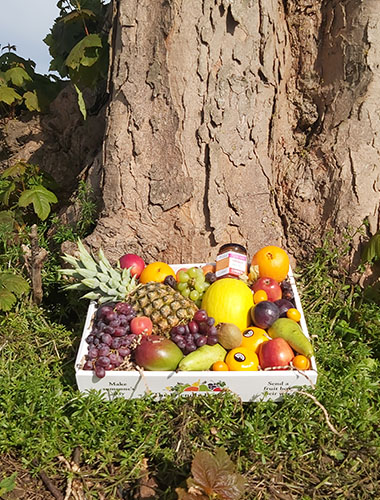 100% recyclable boxes
As well as this, the Friendly Fruit Box is a custom-made creation from a local packaging company, with the boxes made from at least 50% recycled material, along with being 100% recyclable, compostable and biodegradable. This means that, once our lovely customers have enjoyed eating all their delicious fresh fruit & natural goodies, they can easily recycle the box and help the planet.
You can get involved with our mission too – by ordering a Friendly Fruit Box as a thank you gift, a birthday present or even as a luxurious pick-me-up, you can send your loved ones a fruit box for the forest!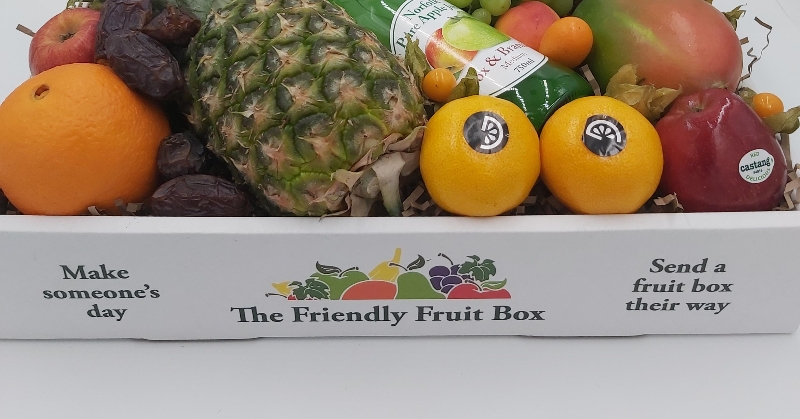 Order your Friendly Fruit Box today!
Our Friendly Fruit Boxes are available to order online, call us on 01760 721283 or pop in to our Norfolk shop. All our Friendly Fruit Boxes can be ordered for national delivery and next-day delivery (when you order before 1.30pm). For more information on delivery options or if you need a hand choosing which Friendly Fruit Box to send, please contact us with your questions!